Candidates Announced For 2019 MCMA Elections
Please review the below bios for the highly qualified candidates for this years election.  Please don't delay, your vote is important and every vote from Active members counts.  All SIGNED ballots are due 
NLT 31 August 2019
.

SEE VOTING INSTRUCTIONS BELOW




Secretary Candidate:

 Ronald Cookson / CWO-5 / USMC / Retired


I am sending you this document to formally apply for the position of Secretary for the Marine Corps Mustang Association. For the past three years, I have served as a director for the Association, and member of the Executive Committee.
For most of my 26 years I served in the Marine Corps I was assigned as a Supply Officer, Warehouse Officer, and Supply Operations Officer.  I know that I could never fill the boots of the current Secretary; however, I do believe I have the qualifications and motivation to fill this position.  In addition, over the last year, I have been working with the current Secretary in helping wherever I can as well as being trained in what the Secretary responsibilities are.
I very much appreciate the membership considering and approving my request to take over as the Association Secretary.
---
Director Candidate:

  Mark Butkovich / CWO-4 / USMC / Retired


My name is Mark Butkovich and I've recently retired from the Marine Corps Reserve at the rank of CWO4.  In my civilian life, I'm a Program Manager for an Aerospace company in Colorado.  I'm interested in helping expand our membership in the Marine Corps Mustang Association and interested in getting to know more of our members.  I'm sure we have a diverse group with a lot of experience and stories; I'd like to also help find ways of capturing more of that accumulated knowledge and wisdom and making it available to our junior mustangs.  Just some ideas.  If I can help support the Association's goals and plans for this next 3 year period as a director.
---



Director Candidate

:
Timothy A. Cook / CWO-4 / USMC / Retired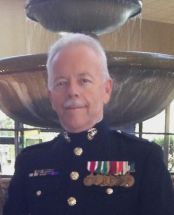 My name is Tim Cook CWO-4 (USMC, retired, R-2699), Secretary, for the Marine Corps Mustang Association.  I have been your Secretary for the past almost 5 years and will be stepping down and handing off the baton to the new incoming Secretary in Sept 2019.  I am willing to continue serving you as a Director of the association if you will have me.  I am well aware of the commitment required to serve you as a Director of the Marine Corps Mustang Association as well as the worked needed to be accomplished over the next three years to take the Association into the future.  There's a lot of work needed to be done for our Mustang Association and I'm ready and willing if you will vote me in on 21 September 2019.

Semper Fidelis!
Tim 
---
Director Candidate

:  Mark Blaydes
/ LTCOL / USMC / Retired
The Desert Mustangs of Arizona recently held their 25th Anniversary. We had the pleasure of MCMA President Alex Childress present. It was the comradery of the Mustangs and the motivating presentation of the President that got me thinking about serving at the National level again. Therefore, as a former Director on the Board, I am submitting my request to run again as a member of the Board.


---


 ↓↓↓ INSTRUCTIONS FOR CASTING YOUR VOTE ↓↓↓


STEP 1 - Review the Candidate Bios above
STEP 2 - Click HERE to Download and Print the Ballot to fill out
STEP 3 - PLEASE VOTE FOR EACH CANDIDATE YES or NO
STEP 4 - Ballots MUST be filled out completely with your Name, Member ID, and signed in order to be counted
STEP 5 - Mail or email your Ballot to the below address.  Ballots are due to the Business Manager NLT 31 August 2019

NOTE:   PLEASE PRINT YOUR NAME CLEARLY ON THE BALLOT.

THANK YOU FOR YOUR VOTE AND YOUR SUPPORT OF THE MARINE CORPS MUSTANG ASSOCIATION!


DOWNLOAD AND PRINT BALLOT HERE 2019 ELECTION CANDIDATES TO CAST YOUR VOTE



MAIL OR EMAIL TO THE BUSINESS MANAGER TO BE RECEIVED NLT 31 August 2019
MCMA, P.O. BOX 190, QUANTICO, VA. 22134-0190
BUSINESSMNGR@MARINECORPSMUSTANG.ORG
---