Candidates Announced For 2018 MCMA Elections

Please review the below bios for the highly qualified candidates for this years election.  Please don't delay, your vote is important and every vote from Active members counts.  All SIGNED ballots are due NLT 1 August 2108.

SEE VOTING INSTRUCTIONS BELOW


President Candidate:  CWO-4 Alexander J. Childress / USMC / Retired



Chief Warrant Officer - 4 Childress enlisted in the Marine Corps Reserve in February 1983 and completed recruit training at MCRD San Diego where he was meritoriously promoted to Private First Class in May 1983. Upon completion of Administrative Clerk School in September 1983 at Camp Delmar, California, he reported to Headquarters Battery, 2d Battalion, 14th Marines, 4th Marine Division, Dallas, Texas, and was promoted to Lance Corporal in February 1984. In July 1984, he was transferred to 4th Forward Area Air Defense Battery, 4th Marine Aircraft Wing, Marietta, Georgia where he completed the Reserve Administrative Course at Camp Lejeune, North Carolina, and attained the ranks of Corporal and Sergeant. In August 1986, he was ordered to active duty under the Marine Corps Reserve Full-Time Support Program and was transferred to the Inspector-Instructor Staff, 14th Marines, Dallas, Texas for duty. During his tour, he completed the Independent Duty Administrative Course at Camp Lejeune, and was selected as 14th Marines "Marine of the Year" for 1987.  

In August 1989, Sergeant Childress was accepted for augmentation into the Regular Marine Corps and was ordered to Headquarters Marine Corps, Arlington, Virginia, for duty with Administration and Resource Management Division. In October 1989, he was selected for reassignment with the Office of the Assistant Commandant of the Marine Corps and Chief of Staff where he served as the Administrative Chief. During his tour, he completed the Sergeants Course at Quantico, Virginia, placing his name on the Commanding General's Honors List. Promoted to Staff Sergeant in January 1993, he completed the Advanced Personnel Administrative Course in March 1993 at Camp Lejeune and in June 1993 was reassigned to serve as the Administrative Assistant to the newly established Office of the Director, Marine Corps Staff.
In December 1993, Staff Sergeant Childress was ordered to 3d Marine Division, Okinawa, Japan, where he served as Administrative Chief, Office of the Assistant Chief of Staff, G-3. In July 1994, he was reassigned as the Personnel Chief, Headquarters Battalion, 3d Marine Division. On February 1, 1995 he was appointed to the grade of Warrant Officer and completed the Warrant Officer Basic Course at The Basic School, Quantico, Virginia, in May 1995. He completed the Personnel Officer's Course at Camp Johnson, North Carolina, in July 1995, attaining the distinction of class honor graduate. Returning to Okinawa, Japan, he reported to the 3d Force Service Support Group in August 1995 for duty as Personnel Officer, 3d Supply Battalion. In July 1996, he completed the Military Justice Legal Officer Course, Naval Justice School, San Diego, California, graduating with honors and was promoted to Chief Warrant Officer – 2 on 1 August 1996.
In July 1997, Chief Warrant Officer - 2 Childress was transferred to Marine Corps Security Force Company, Naval Submarine Base, Bangor Washington, where he served as Personnel/Legal Officer, Adjutant, and Headquarters Platoon Commander. During his tour, he was nominated for the Kitsap Chapter of the Retired Officer's Association's 2001 Junior Officer of the Year Award and was promoted to Chief Warrant Officer - 3 in April 2001. In July 2001, he reported to 2d Battalion, 14th  Marines, 4th  Marine Division, Dallas, Texas, to attend the University of Texas at Arlington on the Marine Corps College Degree Program where he earned a Bachelors of Arts Degree in Criminology and Criminal Justice (Cum Laude). He also served as the President of the University's Lambda Sigma Chi Chapter of Alpha Phi Sigma – the National Criminal Justice Honor Society, and Treasurer for the Criminal Justice Student Organization.
In February 2003, Chief Warrant Officer - 3 Childress reported to 2d Marine Division, Camp Lejeune, NC, where he served as the Officer in Charge, Division Personnel Administration Center Orders Section. During July 2004, he deployed under Operation Iraqi Freedom II as the J-1 Personnel Officer for the Multi-National Security Transition Command – Baghdad, Iraq where he was promoted to Chief Warrant Officer - 4 on 1 December 2004. Upon his return from Iraq in February 2005, he assumed the duties of 2d Marine Division Personnel Officer. In June 2006, he was transferred to Marine Barracks, 8th  & I Streets, Washington, DC, where he served as the Barracks Personnel Officer and a Ceremonial Marching Staff Officer until his retirement on 1 December 2008. Chief Warrant Officer - 4 Childress is a member of the 2d and 3d Marine Division Associations, the Marine Corps Mustang Association, American Legion, Veterans of Foreign Wars, and Disabled American Veterans.
Chief Warrant Officer Childress' awards and decorations include the Bronze Star Medal, Meritorious Service Medal with two Gold Stars, Joint Service Commendation Medal, Navy/Marine Corps Commendation Medal with two Gold Stars, Joint Service Achievement Medal, Navy/Marine Corps Achievement Medal with Gold Star, Navy Unit Commendation Ribbon, Meritorious Unit Commendation Ribbon with two Bronze Stars, Good Conduct Medal with Bronze Star, Selected Marine Corps Reserve Medal, National Defense Service Medal with Gold Star, Iraqi Campaign Medal, Global War on Terrorism Service Medal, Military Outstanding Volunteer Service Medal, and Sea Service Deployment Ribbon with three Bronze Stars.
Chief Warrant Officer Childress is married to the former Kimberly J. Boyd of Arlington, Texas. They have three daughters, Amanda, Ashley, and Emily.
Treasurer Candidate

:  CWO-3 Carlos M. Thrasher / USMC / Retired



To the Members of the Mustang Association:
         My name is Carlos M. Thrasher and it would be my honor for you to consider me for the position of Treasure.  
         I've received both my Bachelor's and Master's in Accounting and would love to use my knowledge for the benefit of our organization. I'm currently taking my Certified Public Accounting (CPA) Test, which consists of 5 test, and hope to become a CPA by the end of 2019.
         I joined the Marine Corps on January 13, 1984 and retired on October 1, 2012. During my service, I achieved the rank of Staff Sergeant, as an Admin Chief, and in 1997 was selected to become a Warrant Officer. As a Warrant Officer, I held the duties of Adjutant, Personal Officer and Platoon Commander.
         During my time in the Marine Corps, I had the privilege of serving in various units (1st Bn, 4th Mar, 27th Marine Regiment, 3rd FSSG, MarForPac, MCLB Barstow, 3rd ANGLICO, 4th LARBn, MARCENT and several others units).
         In addition, I was honored to have serviced in the following operations while in service to the Crops: Operation Desert Storm, Operation Iraqi Freedom and Operation Enduring Freedom.
         I respectfully request your vote to be your next Treasure. I promise to uphold the highest traditions of our organization and will not let you down. 
---
Secretary Candidate:
CWO-4
Timothy A. Cook / USMC / Retired (ONE YEAR EXTENSION ONLY)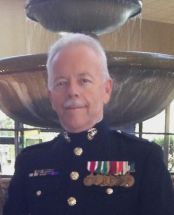 My name is Tim Cook CWO-4 (USMC, retired, R-3203), Secretary, for the Marine Corps Mustang Association.  I have been your Secretary for the past almost 4 years and am glutton for punishment, and willing to serve you one more year, if you will have me.  I am well aware of the commitment required to serve you as your Secretary of the Marine Corps Mustang Association as well as the worked needed to be accomplished over the next year to take the Association into the future.  There's a lot of work needed to be done for our Mustang Association and I'm ready and willing if you will vote me in on 10 Aug 2018. 
                                Semper Fidelis!
                                                     T.A. Cook, Secretary, MCMA
---
Director Candidate:
  Col. Ross D. Pennington / USMC / Retired


Like Mark Blaydes, I too have struggled with the decision on whether I should apply to become a Director in the Marine Corps Mustang Association.
After months of thought, encouragement from a good friend and member of the Association, I have decided I would like to apply and am willing to serve as a Director.
One of the purposes of the Association is to encourage enlisted Marines to become an Officer and help them understand the importance of their service in that regard.
I believe with that our Corps benefits immensely when we have officers come from the enlisted ranks and it is our privilege to help these young men and women take that step forward.
 Ross Pennington
                 Colonel of Marines, Retired


---


 ↓↓↓ INSTRUCTIONS FOR CASTING YOUR VOTE ↓↓↓


STEP 1 - Review the Candidate Bios above
STEP 2 - Click HERE to download and print the ballot to cast your vote
STEP 3 - PLEASE VOTE FOR ONE CANDIDATE FOR EACH POSITION or WRITE-IN A CANDIDATE
STEP 4 - Ballots MUST be filled out completely and signed to be counted
STEP 5 - Mail or email ballots.  Ballots are due to the Business Manager NLT 1 August 2018


DOWNLOAD AND PRINT BALLOT HERE 2018 ELECTION CANDIDATES TO CAST YOUR VOTE


MAIL OR EMAIL TO THE BUSINESS MANAGER TO BE RECEIVED NLT 1 August 2018
MCMA, P.O. BOX 190, QUANTICO, VA. 22134-0190
BUSINESSMNGR@MARINECORPSMUSTANG.ORG
---